Peppermint Soap with Crushed Almonds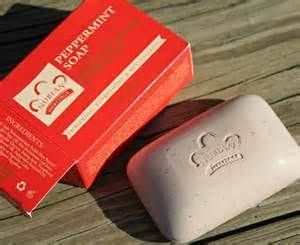 Conditioning Aloe an Organic Shea Butter blend with Peppermint essential oil. creating an effective cleanser for a variety of delicate skin conditions. The oxygenating action of Baking Soda invigorates and revitalizes skin, as Peppermint's uplifting aroma stimulates the senses. Antioxidant-rich crushed Almonds add gentle exfoliators to this rich lathering, invigorating and skin soothing soap.
Ingredients: 100% Vegetable Soap, Butyrospermum Parkii(Shea Butter), Coconut Oil an/or Palm Oil, Aloe Barbadensis Leaf juice, Crushed Almonds, Vegetable Glycerin, Baking Soda, Tocopherol(Vitamin E), Sweet Almond Oil, Peppermint Essential oil, Mineral Pigment or Vegetable color, Natural fragrance an/or Essential Oil.