Ivorian Cocoa Butter Soap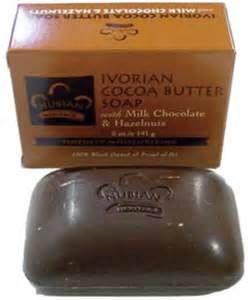 This ultra-moisturizing cleanser removes impurities, while gently exfoliating dead skin with a special blend of shredded Hazelnuts. Shea Butter and Vitamin E are blended in to offer a super-hydrating lather that helps tone and improve skin's elasticity. Antioxidant Vitamin E also helps heal and protect, while Oatmeal Extract helps to relieve minor skin irritation. Milk Chocolate is a healing antioxidant that soothes and softens skin while providing a rich aromatic experience.
Ingredients: 100% Vegetable Soap, Theobroma Cacao(Cocoa) Seed Butter, Butyrospermum Parkii (Shea Butter) Coconut Oil an/or Palm Oil, Avocado Seed Butter, Vegetable Glycerin, Hazelnut Oil, Milk Chocolate, Tocopherol(Vitamin E), Hazelnuts, Oatmeal Extract, Mineral Pigment or Vegetable color.